January 19th, 2011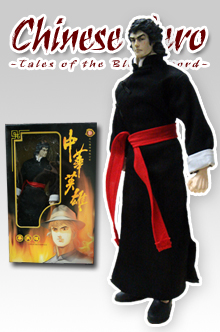 A few years ago, I bought this snazzy-looking Hua Ying-Hung action figure available to US customers via DrMaster Publications, Inc. I happened to have packed it up when I moved to Ann Arbor, so I figured I'd use it to help kick off a column I'm calling "LoveHKToys," which will spotlight a different Hong Kong cinema-related toy each time it appears.
Dubbed "Chinese Hero: Tales of the Blood Sword," this line of particularly figures based on the popular comic book also includes Invincible (played by Francis Ng in A Man Called Hero) and Ghost Servant (a masked Jordan Chan). I don't know the particulars, but they seem to be either re-issue or simply old stock of a previously existing line. I know because I bought Ghost Servant in Singapore several years earlier, and he came in an identical box as the one pictured here.
When the figure arrived, I got quite a shock when I discovered it was SPLIT IN TWO PIECES! Luckily, it wasn't broken, but I did have quite a time trying to force the two parts back together. Thanks to a handy pair of pliers and some good old fashioned elbow grease, I was able to make the Man Called Hero whole once more, and all without breaking the figure in the process.
That shock was almost as bad as when I discovered that Ghost Servant didn't have any arms. For those of you who don't know, the character actually is armless in the comic and the movie, a small fact that somehow eluded my attention prior to purchase. There's not much "action" to be had from a figure with missing appendages, but hey, that's the character.
Hero (aka Hua Ying-Hung/aka Ekin Cheng) isn't a bad figure. Meant to resemble the comic character, the face is well-sculpted, if a little roughly painted. There's not much "action" to him either, although he is poseable. Hero comes with the Blood Sword, a scabbard, and a hat he can wear at a rakish angle whenever he feels like crooning a Sinatra tune.
I never got around to buying Invincible to complete the set, but if I do, you'll be the first to know. In the coming year, stay tuned to this space for more Hong Kong cinema-related action figures.
If you want a closer look at the figure, click on the thumbnails below to enlarge the pictures. Obviously, I'm a terrible toy photographer, but I promise I'll improve as this irregularly updated column develops.
To Order:
Chinese Hero: Tales of the Blood Sword Figures at DrMaster Publications, Inc