January 20th, 2011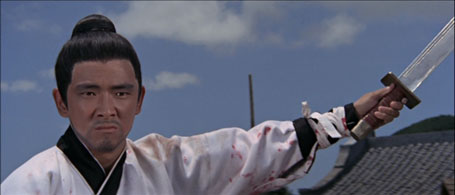 Jimmy Wang Yu returns as "Lefty."
Released in 1967, The One Armed Swordsman made an incredible impact on Hong Kong cinema, establishing a whole new style for wuxia movies and catapulting young Shaw Brothers actor Jimmy Wang Yu into martial arts superstardom. With the film raking in the cash at the local box office, it was perhaps a foregone conclusion that Wang Yu's iconic hero would return. And just two years later, Return of the One Armed Swordsman made its way to theaters.
Chang Cheh, the director at the helm of this rollicking follow-up, clearly subscribed to the "more is more" philosophy of sequel-making. This film boasts more villains, more weapons, more fighting, and more over-the-top action than its predecessor. The storyline isn't quite as compelling nor as personal as the one depicted in the original, but thanks to a solid performance from Jimmy Wang Yu and a surprisingly explicit critique of Jiang Hu, Return of the One-Armed Swordsman avoids the trap of simply being just another empty, overblown action extravaganza, and results in an impressive work in its own right.
If you're interested in learning more about this highly entertaining film, my full review can be found here.