January 25th, 2011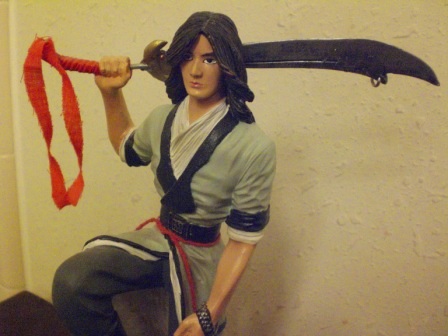 Wind from Storm Riders
Many moons ago, I received two statues in the mail from my family in Singapore — Wind, one of the main characters from Ma Wing-Shing's popular comic book, Storm Riders, and Hero Hua, the protagonist of Ma's earlier manhua hit, Chinese Hero (aka: A Man Called Hero, The Blood Sword). Both characters have a Hong Kong movie connection as they were each famously portrayed by Ekin Cheng in the respective film adaptations.
Unfortunately, neither of these statues came in a box, so I'm not certain who the manufacturer was or if they were even officially licensed by the comic book companies. I found one reference to the Wind statue online (although notice the different brick base), but other than the owner saying he purchased his in Hong Kong, I could find no additional information on the product nor anything at all about the Hero Hua statue.
In terms of quality, the likeness on the Wind figure is a tad bit better than the Chinese Hero statue (they seem to be meant to resemble their comic, rather than cinematic counterparts), but these molded plastic figures both look quite nice on my shelf back home. I've included additional photos of both statues below (click the thumbnail to enlarge). If any of you out there have further information on these statues, feel free to let me know via the comments. If there are other statues in the line, I'd love to know.