January 30th, 2011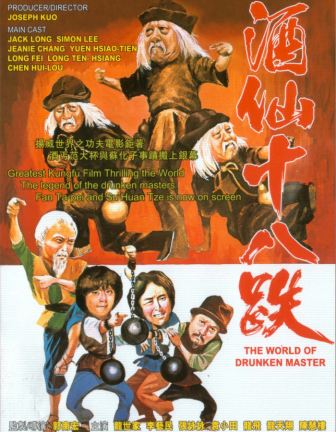 Since I didn't review Drunken Master II for the main website (check out Kozo's take here), I can't follow up yesterday's Drunken Master retro review with another one focusing on its stellar sequel. However, you can read my thoughts on Drunken Master II here, if you're curious. To cap off this weekend of retro reviews centering on the Drunken Master series, I spotlight one of its lesser heralded follow-ups. And no, don't worry — it's not the embarrassingly atrocious Drunken Master III.
While parts II and III both came out in 1994, there were actually contemporaneous additions to the Drunken Master series, including the Yuen Woo-Ping directed Dance of the Drunk Mantis (1979) and Story of Drunken Master (1979), which both featured Simon Yuen in the role of Beggar So (called "Sam Seed" in English dubs and the subject of the recent True Legend). However, the film that's getting the retro review today is an unofficial prequel/sequel that focuses on the life and times of Beggar So and his longtime pal, Fan Ta-Pei — World of Drunken Master.
In a blatant attempt to capitalize on the box office success of that early Jackie Chan classic, director Joseph Kuo resurrected the character for World of Drunken Master. Though Simon Yuen is featured prominently on the poster art (with no less than three images), he only appears briefly in the credit sequence as he demonstrates the art of drunken boxing. Once the film proper begins rolling, however, two other actors replace Yuen as Beggar So for the remainder of the film. It's a big disappointment for Drunken Master fans, considering the obvious charm Simon Yuen brought to the role, but the film does its very best to make up for the beloved actor's absence. You don't have to be drunk to enjoy World of Drunken Master, but it probably couldn't hurt. In fact, have a few beers before you read my review, too.