February 6th, 2011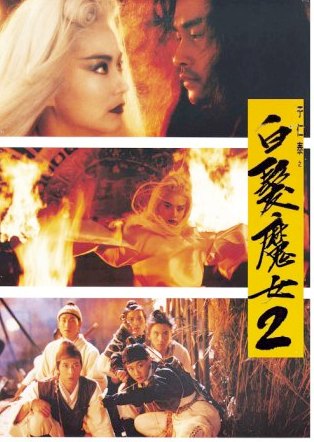 When we last left swordsman Cho Yi-Hang (Leslie Cheung) in the original Bride with White Hair, he was meditating on the snowy slopes of Mount Shin Fung. Due to Yi-Hang's mistrust of his lover, Lien Ni-Chang (Brigitte Lin), the poor woman's hair went from black to white and she slipped further into a bloodthirsty rage. Guilt-stricken by his betrayal, Yi-Hang stands ready on the frosty, precipitous mountain in the hopes of plucking a magical flower that may very well hold the key to healing his beloved Ni-Chang.
In the meantime, Ni-Chang is content with slaughtering the remaining male members of the prominent clans. At the top of her list is Yi-Hang's nephew, Fung Chun-Kit (Sunny Chan), the last descendant of the once-powerful Wu Tang. Chun-Kit takes a wife named Lyre (Joey Man), but their wedded bliss is short-lived when Ni-Chang pays a visit to the clan. The witch kidnaps Lyre, indoctrinating the newlywed into her cadre of lethal, quasi-lesbian women warriors. Naturally, our substitute hero leads a ragtag group band of do-gooders, including the beautiful Christy Chung as the tomboyish Moon, in an assault on the white witch's inner stronghold.
As the sequel to one of the best Hong Kong movies of the 1990s, The Bride with White Hair 2 had its work cut out for it. If you're curious whether the honeymoon is over, check out my review here. I've even embedded a trailer of the second film under the cut.