February 11th, 2011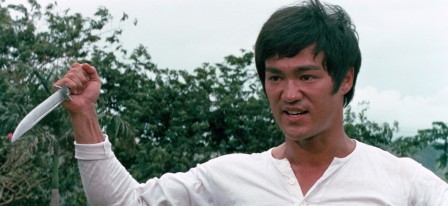 Bruce Lee auditions for the role of Norman Bates
Riding high on the overseas success of the canceled Green Hornet television series (re-titled "The Kato Show" in Hong Kong), Bruce Lee was finally given his big Hong Kong Cinema break by Golden Harvest head honcho Raymond Chow. After outbidding the Shaw Brothers for the actor's services, the famous producer cast the promising young Lee in the 1971 production, The Big Boss. No one, including Bruce Lee himself, could have predicted the film's massive success.
Known to most American fans as Fists of Fury, this Lo Wei-directed film centers on a young, "fresh off the boat" brawler named Cheng Chow-An (Bruce Lee), who has just moved to Thailand. For Cheng, the change of scenery from Guandong seems to have less to do with bonding with his expatriate cousins, and more to do with staying out of trouble. We learn early in the film that Cheng has promised his aging mother that his fighting days are through. He even has a good-luck pendant he wears around his neck to remind him of his solemn oath. But when he and his buddies run afoul of some nefarious drug-running gangsters, will Cheng Chow-An be able to keep his promise?
For a more in-depth look at the film, read my LoveHKFilm.com review. For visual learners, check out this kooky original U.S. trailer or watch the entire film (dubbed in English) under the cut.