August 29th, 2009
 In tribute to James Cameron's new film, Sanjuro employs Lee Byung-Hun as his official LoveHKFilm.com Avatar.
Well, I've finally made it to Singapore, so it's time for a blog update. During my stay I've already seen the Laughing Gor prequel, TURNING POINT, and I hope to see OVERHEARD eventually as well as the Singaporean film WHERE GOT GHOST? perhaps as early as today. I also finally got the opportunity to watch Pixar's UP, which is hands-down the best movie of the summer.
With my first Singapore-based update, I'd like to start with a topic that is actually HK-related — Ma Wing Shing's STORM RIDERS comics. For those of you who live in Hong Kong or some other East Asian country, this post might not be as interesting to you as I hope it is for HK cinema fans in non-Asian countries. Still, I hope you all get a kick out of it!
But first, a preface of sorts. I have — for the longest time — collected toys. I've always taken good care of the toys I played with as a kid, and when I became older, I became one of those fanboy geeks who bought cool toys and either a) displayed them on my desk in funny poses or b) kept them sealed in the package in the belief that they might actually be worth something someday. As to the latter hope, I was somewhat successful. On a related note, I recently dug through my closet at my parents' house, and I have to admit that the sheer amount of unopened Star Wars merchandice I possess is astounding. My hope is that I can secretly pawn this stuff on eBay so my wonderful girlfriend never sees the true extent of my collector mania.
But I digress. The point of this post is to highlight one particulair strain of this deranged mentality – my propensity to collect figures based on Chinese comic books like Storm Riders and A Man Called Hero (aka Zhonghua Ying Hung). Let's just say that I have a lot of these figures, and on any visit to Hong Kong (sorry Kozo, for constantly playing Virgil to my Dante in my personal descent into HK's collectible underworld) or Singapore, I will actively search for these things. However, I'm getting a little older and really starting to see the folly of collecting all this stuff (aka: useless clutter). So on this trip abroad, I told myself that I would not go out and seek this stuff, but if it somehow appeared before me while browsing stores, well…
Anyway, when I arrived at my family's flat in Choa Chu Kang, I was surprised to see this box waiting for me:
I'm not sure you can tell the size from these photos, but it's a pretty big box. I could tell it was some some kind of official Storm Riders merchandise, and from the size of the package, I was guessing it was a big-ass statue. Luckily, my worries about how I'd bring this back to the US evaporated when I learned that the box simply contained two small figures of Wind and Cloud. Here's what they look like:
Pretty cool, huh? The only downside is that Wind's sword and Cloud's base have pegs with no corresponding holes on the figures themselves, which makes wielding a blade (Wind) or simply standing up correctly (in the case of Cloud) simply impossible. Oh well.
While out shopping later that day, I did pick up this volume of Storm Riders, complete with a crazy holo-foil/chromium(?) cover and a snazzy mousepad:
I bought it at a store called Comics Connection, which has branches in just about every shopping complex in Singapore I've visited. I guess small business owners who want to have a comic store of their own have to go the franchise route here (I'm not sure). Each time I've visited, however, I've noticed that I see less and less Chinese product (aside from the comics themselves) and more and more Japanese manga, toys, and games (most of which is available in the US now). Anyway, despite the burgeoning Japanophilia apparent in these stores, I thought this branch was pretty cool thanks to a familiar figure they had busting out of the wall: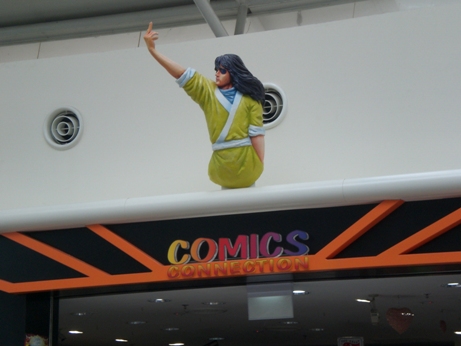 Kinda nifty, but take a closer look at Wind's hand: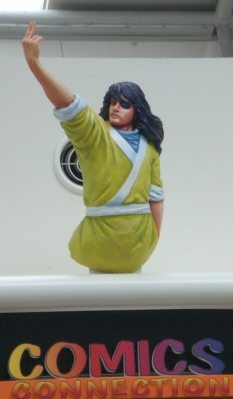 Perhaps Wind is well-aware that this is a vulgar hand gesture.
In other Storm Riders-related news, I'm planning on going to see the Wind and Cloud swords on display at Vivo City, so stayed tuned for that. Apparently, Ekin Cheng actually hand-delivered them about a month ago, but unfortunately, I was still in Oklahoma at the time.
So until next time, I'll leave you with some avatar shenanigans…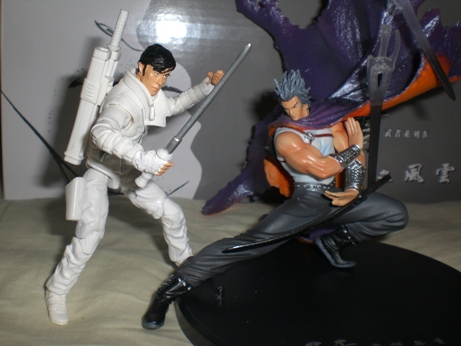 I'll get you for MURDERER and PARA PARA SAKURA!