March 26th, 2010
This content of this post may seem a bit unprofessional, but then again, I've never felt entirely professional about this LoveHKFilm.com writing gig anyway. Don't get me wrong, I put my heart and soul into what I do for the site, but it's not like I expect to be invited into the Hong Kong Film Critics Society anytime soon.  With that in mind, I couldn't help but be tickled when I saw the back cover of Dragon Dynasty's Return to the 36th Chamber DVD: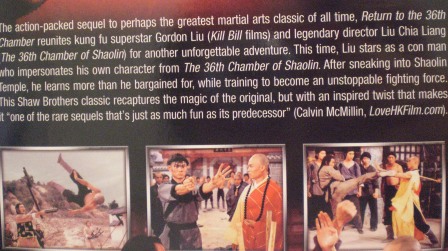 The quote is pulled from my positive review of the 1980 Lau Kar-Leung-directed classic. To my knowledge, I've only ever been quoted by name once before — on the packaging of Optimum Releasing's Swordsman 2 DVD in the UK — so it was nice to actually have a DVD that I could point out at Best Buy to my friends and family. Let's just say it made my day.
Now does Roger Ebert track every time he's been quoted in print advertisement or DVD boxart? Probably not. But I'm no Roger Ebert.
So if any you folks out there see pull quotes attributed to LoveHKFilm.com – or more specifically, quotes from Kozo, Kevin, or me — please let us know.
COMING SOON:
My picks for the Top Ten Hong Kong Films of the 90s, a LoveHKFilm.com Time Machine review, and my thoughts on such semi-recent fare as Storm Warriors, Accident, and Vengeance — unless I keep playing Yakuza 3 into the wee hours of the night, then all bets are off.