July 7th, 2010
I used to collect action figures, but I honestly cannot remember the last time I bought one. Now, don't get me wrong, my lack of toy purchases has little to do with "maturity," and more to do with the need to conserve personal finances. Oddly enough, collecting toys has become an oddly expensive proposition. Not only is the collector-centered "cool stuff" usually higher-priced, but even the mass-produced products that are actually intended for kids has increased considerably in the last few years. Yesterday, I saw that Target was selling DC Comics' JLU line for $8.99.In fact, suggested retail price on these figures — no bigger than four inches tall — is $9.99. That's highway robbery, if I ever saw it.
But money issues aside, the fact is, it might be fun to display a toy on my desk or bookshelf, but let's face it, the dang thing inevitably ends up in a drawer or a box somewhere, so what's the point? But I digress…
However, just because I'm abstaining from frivolous purchases like these, that doesn't mean I can't appreciate them. In fact, just recently I was browsing the online toy retailer, Big Bad Toy Store, and lo and behold, I discovered an interesting shipment for June 2010 — Shaw Brothers Action Figures!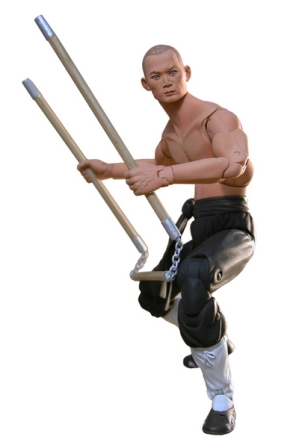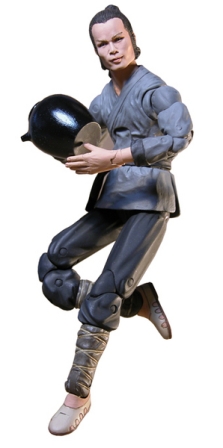 But as jazzed as I was about this discovery, I experienced a bit of deja vu. To find out more about this set, I googled "Shaw Brothers Action Figures," and I found this surprising  link to a very familiar message board post written by an equally familiar forum member.  So, if this is old news I already posted about  in 2008 and then promptly forgot completely, how come Big Bad Toy Store says the toys are available for pre-order for release last month?
I've e-mailed NECA to find out if these figures were ever released previously and what their plans are for future figures, but so far, I haven't heard back. In any event, it looks like they dropped one of the Crippled Avengers characters that was initially announced, but even with the loss, it's still a pretty cool set. The characters include San Te (Gordon Liu Chia-Hui) from the 1978's 36th Chamber of Shaolin, Hai Tao (Philip Kwok) from 1979's The Kid with the Golden Arm (the US DVD came out June 15th from Tokyo Shock, and Yang Brother #6 (Alexander Fu Sheng) from Eight Diagram Pole Fighter (the next Shaw movie I'll review!*). Personally, I hope they do Super Inframan.
For more info, check out NECA for the official Shaw Bros product page, which includes these toys, and out-of-date calendar, and some snazzy, but not-appropriate-at-all-for-me Shaw Bros baseball caps.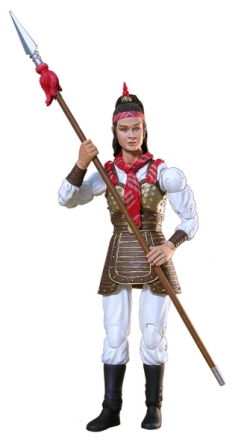 ________________________________________________________
*Speaking of Shaw Bros, Dragon Dynasty recently released Return of the One Armed Swordsman, and they used a couple enthusiastic pull-quotes from my LoveHKFilm.com review. Sadly, unlike the previous Return to the 36th Chamber DVD release, I was not credited by name this time. It's not a big deal, but it'd be nice to show my parents. I think they may need some more concrete evidence of this "review thing" I still do. In any event, it's great seeing the name "LoveHKFilm.com" out there in the world.