July 17th, 2010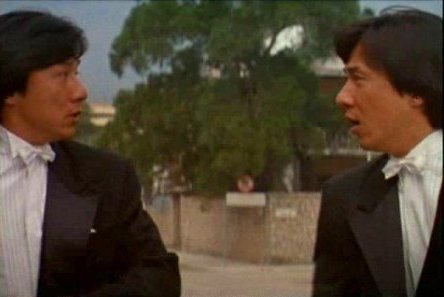 Which one is the real one?
After misplacing my driver's license and harboring a belief that I needed to get some exercise, I walked to SF Chinatown three days in a row. During those trips, I browsed a number of DVD shops. While certain locations carried legitimate Hong Kong DVDs, I was struck by the number of stores that carried bootlegs. I guess that shouldn't have been too surprising a fact in itself, but I have to say that the sheer quantity was astounding. After closer investigation, I realized every single Hong Kong film available on a licensed DVD was bootlegged. No official versions in sight.*
The prices, too, were pretty astonishing — 4 for $20 at one store or $4.99 each with a pricing deal based on bulk. I realize people just illegally download them for free, but for Bay Area HK cinema enthusiasts (and Chinese folks) who aren't hip to technology or don't want to go to the trouble, this seems like a real temptation. At sci-fi and comic cons you see bootlegs of hard-to-find or out of print films, TV shows, and Holiday Specials, but they aren't usually that cheap. I've seen Chinese bootlegs side-by-side with official DVDs in certain San Jose DVD shops, but the prices weren't that drastically different. How can legitimate DVD companies compete with this kind of piracy?
In the old days, a bootleg meant a third generation VHS tape at best or a shaky cam version of a movie still-in-theaters, but now the bootleggers just rip them from an officially licensed DVD. The image looks identical…because it is.
Even the box art is getting more sophisticated, coming very close to resembling the real thing.** An untrained eye — or someone simply willing to believe that they can get so much for so little — could easily be fooled, myself included. I guess that means that the days of this kind of box art are over: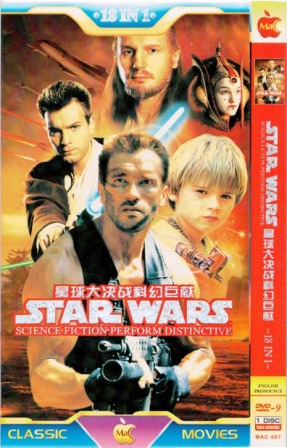 Predator-era Arnold would have totally saved The Phantom Menace
_____________________________________________________________
*I'm almost certain that any DVD that had a US Tai Seng edition — Black Ransom and 72 Tenants of Prosperity for example — did not have an accompanying ultra-cheap bootleg version. Why were they the exception?
**To wit,  I once accidentally bought a bootleg of Memories of Matsuko with identical packaging to the official Hong Kong version. It was also selling for the manufacturer's suggested retail price. Sure, when I got it home, the picture looked great, but the English subtitles were from a COMPLETELY DIFFERENT MOVIE. Strangely, it took me a while to figure that out. I thought, "Man, this dialogue sure is wonky. The director must be going for something really avant garde here."