July 23rd, 2010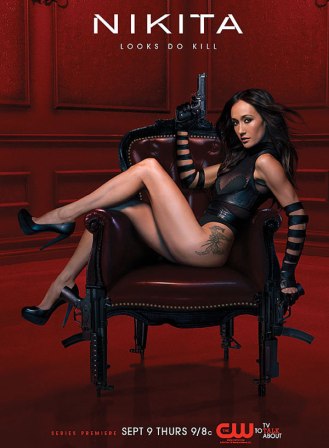 Maggie Q, looking a heckuva lot like Jim Lee-era Psylocke
Maggie Q is my girlfriend's father's employee's ex-girlfriend. What's that make us? Absolutely nothing. Nevertheless, my interest was piqued when I recently learned that the former Maggie Quigley will be starring in the CW's adaptation of Luc Besson's La Femme Nikita (1990).
This marks the third official remake* of the original French film starring Anne Parillaud. The first, Point of No Return (1993), was directed by John Badham and starred Bridget Fonda. The second, a 1997 TV series that ran for five seasons on the USA channel, starred Peta Wilson, who later appeared as Mina Harker in a movie so bad that it made Sean Connery quit acting altogether.
Although I don't have much to say about her Hong Kong work, I did find her to be a welcome presence in 2006's Mission: Impossible III and 2007's Live Free or Die Hard. Here's wishing Maggie Q the best of luck.
The show hits TV screens in the United States on September 9th. The Nikita trailer is HD and thus too big to embed, so here's an alternate preview clip from the CW.
___________________________________________________________________
* And how could I forget 1991's The Black Cat, a presumably unofficial remake starring HKFA Best New Artist, Jade Leung?