November 3rd, 2010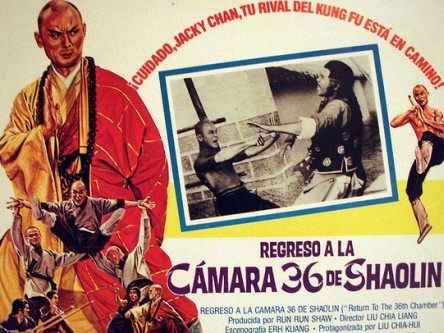 Snazzy Spanish Language Poster to Return to the 36th Chamber
I wasn't planning on running three retro reviews in a row this week, but I've been pretty busy with my dissertation work, and since I'd already started with The 36th Chamber of Shaolin yesterday, I figured I might as well continue spotlighting the second and third entries in the series for today's post and tomorrow's follow-up.
This winning, but entirely unconventional sequel recasts the first film's star, Gordon Liu, as a down-on-his-luck con artist learning the ropes from the very same character he played in the original movie: the venerable Shaolin monk San Te. That may sound confusing, but the role switcheroo actually turns out to actually be a casting masterstroke as it successfully solves the problem of trying to follow up a film like The 36th Chamber of Shaolin, which has a beginning, middle, and end to San Te's arc with very little room for a sequel. By having Gordon Liu play a different character, one gets to a) experience the "journey"all over again in a way that wouldn't make sense using the same character or a different actor as the rascally pupil.
Equal parts spoof and straight-ahead martial arts actioner, Return to the 36th Chamber is one of the rare sequels that's just as much fun as its predecessor.
You can read my review here.