January 4th, 2011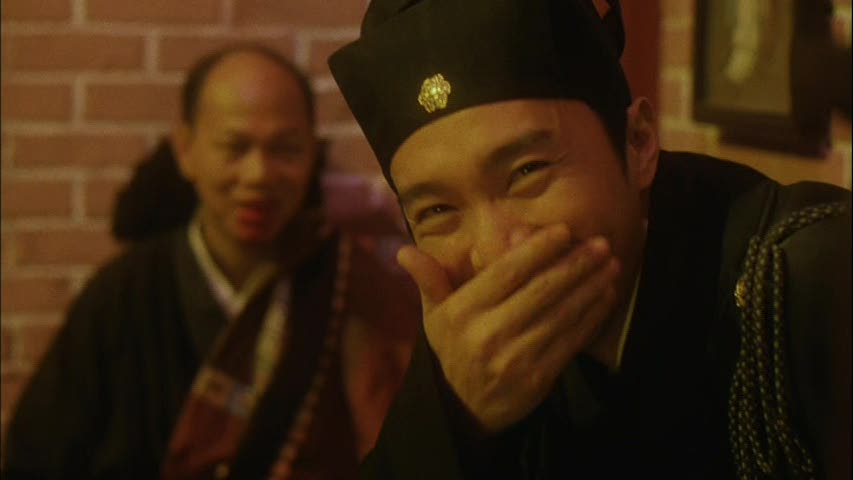 Produced by Wong Jing and co-directed by Vincent Kok and Stephen Chow, Forbidden City Cop (1996) is yet another delightful comedy from Hong Kong cinema's undisputed King of Comedy; the film combines two of my personal faves — Stephen Chow and James Bond — with great results. Think of it as a 007 movie transplanted to the far-flung past of ancient China. As Stephen Chow films go, it's also a nice companion piece to his equally amusing Bond send-up from two years earlier, From Beijing With Love.
The film gets off to a great start with hilarious Bondian pre-title sequence featuring Stephen Chow's Ling Ling Fat (aka: 008) interrupting a famous duel between Yip Koo-Sing and Sai Mun Chiu Suet, as Luk Siu-Fung looks on. If you're unfamiliar with that particular trio of wuxia heroes, watch the subsequently-filmed The Duel (2000) with Andy Lau, Ekin Cheng, and Nick Cheung in the above-listed roles for reference. Even if you don't get the references, it's still pretty amusing.
Another moment sure to incite a few chuckles is the ensuing title sequence, which looks like it comes straight out of the Roger Moore era, albeit with some noticeably goofy tweaks here and there as is Chow's style. And no Bond parody would be complete without the music, as Ling Ling Fat's "Bond theme" recurs throughout the movie in an increasingly funny ways.
The plot centers on Ling Ling Fat's attempt to save the Emperor from certain harm by an evil cult, but really, it's all about the winning performances, especially from its two leads. Carina Lau and Stephen Chow not only make a cute couple as husband and wife, but they're probably one of the most convincing romantic pairings in all of Chow's films to date. Even if Forbidden City Cop is a "mo lei tau" comedy, Carina Lau seems to be delivering her all, even if she's just engaging in "wacky" conversation. There's definitely a chemistry between the two, and it elevates the material considerably.
All-in-all, Forbidden City Cop is another solid comedy from Stephen Chow's heyday. It's movies like this that make me wish he was still such a prolific filmmaker, albeit with the polish and craft of his post-King of Comedy works.
Final Grade: A
As per usual, be sure to check out Kozo's review over at LoveHKFilm.com.