January 5th, 2011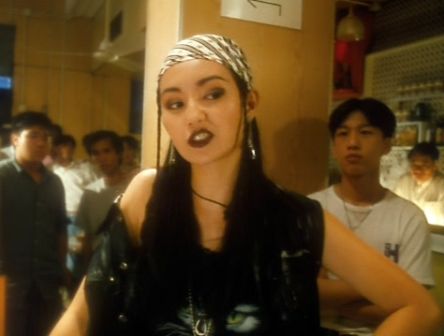 Yep, that's Maggie Cheung in Boys are Easy.
By all rights, this 1993 Wong Jing-directed farce should not be as funny as it is, but I'll be damned if I wasn't entertained all the way through. A lot of the film's charm is a direct result of the game performances given its all-star cast. Consider the big names involved: Brigitte Lin Ching-Hsia, Maggie Cheung Man-Yuk, Chingmy Yau Suk-Ching, Tony Leung Ka-Fei, Jacky Cheung Hok-Yau, and the man himself, Ekin Cheng! The plot — or what passes for one — is all over the place, but what do you expect in a Wong Jing film?
Eager to get all of his daughters married off, Ching Sing (Richard Ng) hatches a daring plot with his son, Ching Siu-Pei (Jimmy Lin) to achieve this incredibly old-fashioned goal: he fakes a cancer diagnosis, telling them he only has a month to live. And so, due to Ching's manipulations, the three girls do their best to pretend they have boyfriends to placate their "dying" father.
Ching Sing's first daughter, Ching Siu-Tung (Played by Brigitte Lin and thankfully not Ching Siu-Tung in drag) is a masculine, tough-as-nails Hong Kong copper who taps a high-priced, but somewhat pathetic gigolo, Simon Tse Sai (Tony Leung Ka-Fai) to play her beau. The second daughter, Ching Siu-Nam (Maggie Cheung), is a naive social worker who ropes in a dopey triad, Wu Ying (Jacky Cheung). And rounding out the trio is the third and youngest daughter, Ching Siu Sze (Chingmy Yau), who brings home a man alleged to be a twenty-seven-year-virgin, Lee Chi-Ko (Ekin Cheng).
Added to this mix is Ching Sing's less than sincere pen pal (Sandra Ng), a requisite gangster antagonist named Wild Dog (Ken Lo), a great many misunderstandings, and the kind of silly shenanigans that only an early 1990s Hong Kong film can provide, and you have a recipe for an incredibly funny movie. You might assume that it'd be a Wong Jing crapfest, but thankfully, you'd be wrong. Check it out if you're interested in this goofy, legitimately humorous diversion. Although all the big stars give amusing performances, Maggie Cheung's is by far the best. (2007/2011)
Final Grade: B
For more info, be sure to read Kozo's review at LoveHKFilm.com.