January 17th, 2011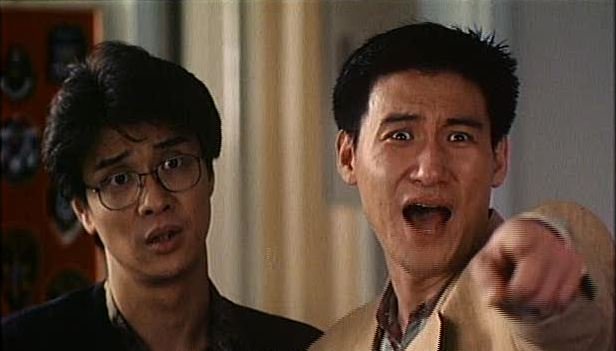 Stephen Tung and Jacky Cheung in the improbably named Pom Pom and Hot Hot
Jacky Cheung and Stephen Tung partner up in Joe Cheung's weirdly titled Pom Pom and Hot Hot (1992), a somewhat typical buddy cop/action comedy that boasts — seemingly out of nowhere — an impressive guns ablazin' finale that could stand next to some of the best action sequences Hong Kong cinema has to offer. Kudos have to go to star Stephen Tung who served double-duty as the film's action director.
In addition to the two main stars, Alfred Cheung, Loletta Lee, and Bonnie Fu provide entertaining, if uneven laughs in supporting roles, but really, it's Lam Ching-Ying who steals the show as the duo's superior officer, a ridiculously entertaining gunplay savant who wouldn't be out of place in a classic John Woo film. His brief confrontation with a villainous hitman prior to the big climax ranks as a major highlight of the movie.
Plotwise, Pom Pom and Hot Hot feels a lot like an earlier buddy cop flick from the same decade, 1990's Curry and Pepper. In comparison, however, Pom Pom isn't quite as funny and really seems to be dragging its heels on its way to that breathless action finale. But what a finale! When the bullets start flying, it's a real sight to behold. (2007/2011)
For another take on the film, see Kozo's review over at LoveHKFilm.com here.