February 1st, 2011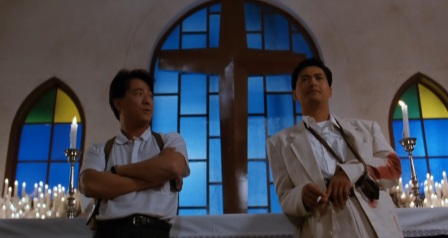 "Jung Woo-Sung, huh? I'm holding out for Colin Firth."
While composing a review for the surprisingly good remake of The Karate Kid yesterday, I happened upon the news that John Woo's The Killer is also being remade — in 3D, no less. A Moment to Remember's John H. Lee will direct and Korean star Jung Woo-Sung will headline the film. John Woo himself has apparently given the project his blessing, as he, along with his partner Terence Chang, will be serving as a producer on this 3D, Los Angeles-set re-imagining of his 1987 classic. How involved he'll actually be remains unclear.
Personally, I like Badass Digest writer, Devin Faraci's idea that Woo is basically taking a John Carpenter-style approach to the remake, as the legendary horror director (Halloween, The Thing, They Live) served as a producer on the updates of The Fog and Assault on Precinct 13, but really didn't have anything to do with the creative process. If I remember Carpenter's words correctly, he had no problem with remakes, "as long as the check clears."
As some of you will remember, there was an earlier remake of The Killer planned by Walter Will in 1992, set to star Richard Gere and Denzel Washington in the Chow Yun-Fat and Danny Lee roles. According to Christopher Heard, however, some American producers balked at the seeming homoeroticism between the two male leads. Homophobia, it seems, derailed plans for the 1992 version. That was almost twenty years ago. God, I feel old.
Anyway, what do you think of the prospect of a Killer remake? Are you excited about its potential? Angered at the heresy? Resigned to the fact that every movie you ever loved will be remade in 3-D? Whatever your take, you can read the full press release under the cut.
Los Angeles, 31 January 2011: Essential Entertainment has joined Lion Rock Productions in its remake of THE KILLER in 3D, currently in pre-production, which will be directed by John H. Lee (A Moment to Remember, Saying Good-bye, Oneday) and written by Josh Campbell. Jung Woo-Sung (Reign of Assassins, The Good, The Bad, The Weird) will star in this English language re-telling of John Woo's iconic action masterpiece, with additional cast to be announced shortly. The film will be produced by Woo (Face/Off, Mission: Impossible II) and Terence Chang under their Lion Rock Productions banner. Essential Entertainment will be handling worldwide sales.

Producer John Woo said: "While all my films are special to me, THE KILLER is truly one of my favorites. We are thrilled to reinvent it as an English-language film and know it's in capable hands by the incredible visual style and tender emotion John H. Lee brings to all his films."

John Fremes, President of Worldwide Distribution at Essential Entertainment said: "John Woo's THE KILLER is one of the most influential and classic action films of all-time. The 3D version will no doubt appeal to fans of the original as well as capture a new generation of enthusiasts."

Set in present day, an elite Asian assassin risks everything to protect a beautiful singer that he unintentionally blinded, but can only do so with the help of an LAPD detective who is trying to catch him.

THE KILLER in 3D was brought into Essential Entertainment by attorney Howard Frumes from Alexander, Nau, Lawrence, Frumes, & Labowitz, LLP.

Lion Rock Productions has also independently produced, in addition to its numerous studio films, RED CLIFF, the highest grossing film in China at the time of its release, as well as the upcoming martial arts swordplay drama REIGN OF ASSASSINS, released by The Weinstein Company.

In addition to THE KILLER in 3D, Essential Entertainment is handling the international sales on Barney's Version, The Expatriate, A Good Old Fashioned Orgy, The Music Never Stopped, and Red Dog, which will have its world premiere at the Berlin International Film Festival— screening in competition as part of Generation 14plus.