March 4th, 2011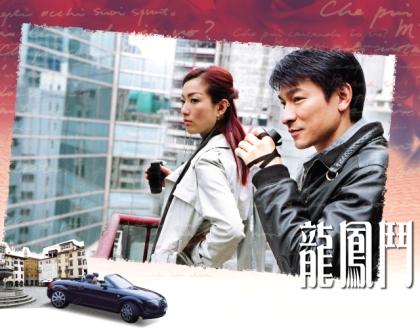 Sammi Cheng and Andy Lau in Yesterday Once More (2004)

I have to admit that my curiosity was piqued by the recent announcement that Andy Lau and Sammi Cheng would be reuniting with director Johnnie To to make their fourth film together. At the very least, I'm hoping it'll make up for the last movie they all worked on, Yesterday Once More.
While the Hong Kong megastars sparkled in Needing You and Love on a Diet, their third collaboration with director Johnnie To seemed like a sure thing. Sadly, it wasn't. All told, 2004's Yesterday Once More amounts to nothing less than a crushing disappointment.
In the film, Lau and Cheng star as divorced uber-thieves, Mr. and Mrs. To. In the opening sequence, the Mister dumps the Missus after she reveals that she treasures material things more than her husband. He then proceed to promptly disappear from her life. However, when the former Mrs. To tries to marry a rich mama's boy named Steven (Carl Ng, who is both distastefully and bizarrely referred to as "The Jew" in the English subtitles), Mr. To emerges from the shadows to play a curious game of cat-and-mouse with his former flame.
Why? Well, Mrs. To isn't marrying Steven because she loves him, but because his mother (Jenny Hu) possesses a priceless ruby necklace that she's itching to get her hands on. Little does she know that her ex-husband is going to beat her to the punch.
Is Mr. To trying to win her back? Or is he just hoping to irritate the hell out of her? In truth, it may be a little of both, but it becomes quickly apparent (especially to anyone paying attention to the reason why they broke up in the first place) that he's trying to teach her an important lesson about life. Or something.
That plot breakdown may sound like the ingredients for a fun, light heist film, but Yesterday Once More drops the ball in so many ways. While some of the best heist/caper films are largely serious endeavors, a lot of them — the Ocean's 11 series immediately comes to mind — are lightweight affairs that get by on the collective charisma of their actors, the ingeniousness of their heist plan, or the cleverness of their scripts. Yesterday Once More, I'm afraid, fails in every single category.
The filmmakers certainly want to project this breezy, carefree, living the James Bond lifestyle-type vibe to the audience, and yes, the film most definitely boasts an elegant backdrop (Udine, Italy), beautifully shot sequences, and an exceedingly high star wattage with its famous pair. But high production values and grinning actors do not pass for actual content. I'd be okay with a style over substance approach if Yesterday Once More was witty or amusing. Frankly, it isn't.
The main problem is that Johnnie To is either unable or simply uninterested in making the audience feel anything for the characters, except perhaps mild disgust. For a good chunk of the film's running time, Sammi Cheng's character comes across as materialistic and cold. And while the film's plot requires her to exist at one extreme in order for her to make the change to the other side, there's nothing in the film that suggests she was anything more than a gold-digging kleptomaniac to begin with. And while we're supposed to sympathize with (or at least be charmed by) Andy Lau's character, he registers as mainly smarmy and remote — not exactly a winning recipe for a likable leading man.
Even worse, late in the film, the characters drop a double bombshell on the audience (the "twists" are identical, except one's a fake-out and one isn't) that I found so incredibly distasteful, unearned, and hollow. To be fair, the revelation hit really close to home, so I recognize I may not be giving the film a fair shake in this regard. But to be honest, I don't think I'm being unreasonable in wanting to actually care about both the characters and what's happening to them before a filmmaker decides to pull the tearjerker card on his viewer. Without building up that initial goodwill, the dramatic turn just doesn't work. Unlike Needing You and Love on a Diet, Yesterday Once More is not a To-Lau-Cheng collaboration worth revisiting. Here's hoping team-up #4 is a glorious return to form.
For a slightly less negative take on the film, check out Kozo's review here.