March 6th, 2011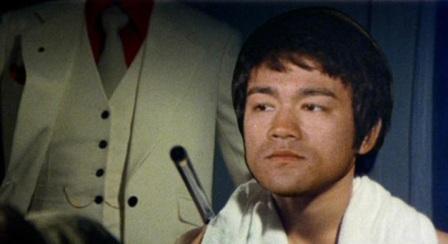 Before CGI face replacement technology, there was the revolutionary "let's paste a cut-out of the deceased actor's head on a mirror" technique. 
After Way of the Dragon, Bruce Lee began filming the ending battle sequence for a film he planned to call Game of Death. But Hollywood came calling so Lee shut down production on the film to begin Robert Clouse's Enter the Dragon instead. After completing the American film, Lee had hoped to finish the postponed Game of Death, but sadly it was not to be — two weeks before Enter the Dragon's premiere, the "Little Dragon" abruptly died of a cerebral edema.
Enter Raymond Chow, the famous Golden Harvest producer who owned the rights to the rare footage. Wanting to make a tribute to Lee (and make a little money in the process), Chow persuaded a reluctant Robert Clouse to reshoot the film with doubles and create an entirely different script from Lee's original idea. As good as the filmmakers' intentions may have been, in hindsight Game of Death comes off less like a fitting tribute to the master and more like a crass, shockingly amateurish disaster. Though Game of Death features Bruce Lee in his final onscreen appearance and even sports a rousing final act, the majority of the film can only really be deemed entertaining in a cheesy Mystery Science Theater 3000/Ed Wood kind of way.
You can read my LoveHKFilm.com review for this travesty here. To tell you the truth, I actually rewatched this film about three weeks ago via my Fortune Star/Fox DVD, and my opinion of Game of Death has actually worsened in comparison to what I wrote in my original review. Sometime this week, I'm going to give a full breakdown of what this movie did so very wrong. There was actually a better way to salvage Bruce Lee's lost footage. Unfortunately, the filmmakers behind this mess were either unwilling or unable to see a much more viable and entertaining option. Stay tuned.